---
Contact us for details and pricing.
For the custom items, this is not an instant messaging service, and we aim to reply in less than 24 hours.
Let us know what we can help you with. The more detail you can add - the faster we'll be able to find a solution.
In order to provide a qualified reply, we need to know the quantity, size and exactly what 'text' are you going to use on the custom item? Is there any specific color and pictures that you would like to use?
Personalised T-shirts are easy to create and get your logo, artwork or message out there in a big way. Whether it's a matching collection of uniforms for your employees or high-impact giveaways for events, we've got you covered.

Adding your logo to custom T-shirts is a great way to spread the word about your business and shows that people actively support you every time they step out wearing them. Printed T-shirts also make great keepsakes for family gatherings, reunions or special events. They're the perfect take-home gift that people will use time and time again. What's more, you create positive associations with your business, club, cause or event with every wash.

Explore our wide variety of options for T-shirt printing, including long sleeve and short sleeve styles in a full range of colours and sizes. Once you've found the right style, design your own T-shirt by uploading your logo or design, and you can even add additional text in our interactive design studio.
More Picture(s)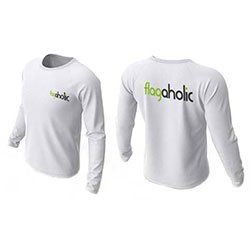 ---
Customer Reviews
4.9 out of 5 Stars. Based on 17 reviews
---
By Pierre Petitpas on Oct 15, 2021
---
By Eric Poulin on Aug 20, 2021
---
By Fabienne Lesec on Aug 19, 2021
---
By julie masson on Aug 18, 2021
---
By TROY HIBBS on Jul 23, 2021
---
By Amie St.Arnaud on Jun 22, 2021
---
By Sheila Macdonald on Feb 03, 2021
---
By Quinton Harriman on Jan 02, 2021
---
By Dale Tulloch on Sep 24, 2020
---
By Kari Paulsen on Sep 01, 2020
---
We're here for you (COVID-19 update)
---
Related Items