Replaceable Banner (Graphic Cartridge Incl.)
---
| | | |
| --- | --- | --- |
| Qty | Unit Price | Delivery Cost |
| 1 | $119.00 CAD each | $13.50 CAD each |
| 3 | $109.00 CAD each | $6.50 CAD each |
| 5 | $99.00 CAD each | $5.10 CAD each |
| 10 | $89.00 CAD each | $4.05 CAD each |
| 20 | $79.00 CAD each | $3.52 CAD each |
All prices incl GST.
Discount starts at 2 units with the same or different artwork.
Includes Cartridge, Top Bar and Printed Graphic.
Adobe Acrobat File Setup Template(s)

Replaceable banner (graphic cartridge incl.)

Download
Price Calculator
---
| | |
| --- | --- |
| | 33.5" (w) x 78.7" (h) |
| | 2.00 pounds |
(Does not include shipping time)
2 Business Days
---
Full color digital printing Incl.
Contact Us
for larger quantities.
This is a replacement banner, visual size 33.5" x 78.7" (850mm x 2000mm), specifically designed for Retractable banner stand (graphic interchangeable). It offers an easy-to-use interchangeable graphic cartridge. You can quickly change a new banner within 5 minutes, and keep your old banner in a separate graphic cartridge with extra protection and conveniently travel around.

This replacement banner fits Retractable Banner Stand (Graphic Interchageable) only.
More Picture(s)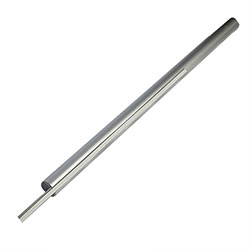 ---
Customer Reviews
4.9 out of 5 Stars. Based on 28 reviews
---
By Dc Grewal on Oct 05, 2021
---
By Eric Yu on Aug 09, 2021
---
By Lisa Shelley on Aug 01, 2021
---
By Lindy Wagenaar on Jul 29, 2021
---
By Lisa Wells on May 30, 2021
---
By Quinton Harriman on May 06, 2021
---
By Tom Stulberg on Mar 07, 2021
---
By Nathan Towsley on Jan 15, 2021
---
By Carl Pelletier on Dec 15, 2020
---
By Terry Sharp on Aug 18, 2020
---
We're here for you (COVID-19 update)
---
Related Items