Full Color Stretch Barrel Covers
---
| | | |
| --- | --- | --- |
| Qty | Unit Price | Delivery Cost |
| 1 | $120.00 CAD each | $13.50 CAD each |
| 3 | $110.00 CAD each | $6.50 CAD each |
| 5 | $100.00 CAD each | $5.10 CAD each |
| 10 | $95.00 CAD each | $4.05 CAD each |
Prices based on 23 in Dia x 34.5 in High standard Barrel Covers.
Discount starts at 2 units with the same or different artwork.

Adobe Acrobat File Setup Template(s)

Full Color Stretch Barrel Covers (Standard Size)

Download
Price Calculator
---
(Does not include shipping time)
4 Business Days
---
Full color digital printing Incl.
Contact Us
for larger quantities.
Barrel or Drum Covers are a great way to mask existing barrels with more appealing outer surfaces. Full color digital printing is available on all styles of covers, allowing you to promote your brand, product or company. Create a unique piece that's specific to your event by getting a custom printed barrel cover. The stretch fabric we use is designed to slip over the barrel, fitting snug all the way around. When not in use, the barrel covers fold up small and can be used multiple times.

23 inches Dia x 34.5 inches High is the common size for a standard Barrel (200 litre / 55 gallon).

OTHER CUSTOMISED ALSO AVAILABLE ON REQUEST
More Picture(s)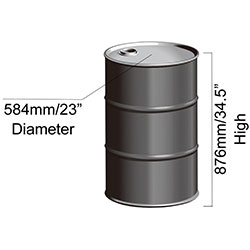 ---
Customer Reviews
5.0 out of 5 Stars. Based on 26 reviews
---
By Karen McFarlane on Nov 01, 2021
---
By Brandon Sarney on Oct 05, 2021
---
By RAJA SINGH on Sep 12, 2021
---
By Viktor Zubrickas on Jul 21, 2021
---
By Quinton Harriman on Jun 16, 2021
---
By Jonathan Lambert on Apr 09, 2021
---
By Jonathan Lambert on Mar 22, 2021
---
By Karen Mascarenhas on Feb 24, 2021
---
By Stacy Luck on Jan 15, 2021
---
By Trevor Doepker on Dec 04, 2020
---
We're here for you (COVID-19 update)
---
Related Items