---
| | | | | | |
| --- | --- | --- | --- | --- | --- |
| | 4.0 ft | 5.0 ft | 6.0 ft | 8.0 ft | 10 ft |
| 6.0ft | $130.00 | $150.00 | $165.00 | $190.00 | $220.00 |
| 8.0ft | $150.00 | $170.00 | $190.00 | $230.00 | $270.00 |
| 10.0ft | $170.00 | $195.00 | $220.00 | $270.00 | $330.00 |
| 12.0ft | $190.00 | $220.00 | $250.00 | $320.00 | $390.00 |
| 14.0ft | $210.00 | $255.00 | $290.00 | $370.00 | $445.00 |
| 16.0ft | $230.00 | $270.00 | $320.00 | $420.00 | $505.00 |
| 18.0ft | $250.00 | $300.00 | $355.00 | $460.00 | $560.00 |
| 20.0ft | $270.00 | $330.00 | $400.00 | $505.00 | $605.00 |
Discount starts at 2 units with the same or different artwork.
Adobe Acrobat File Setup Template(s)

Fabric Banner Artwork Setup Notes

Download
Price Calculator
---
(Does not include shipping time)
4 Business Days
---
Full color digital printing Incl.
Contact Us
for larger quantities.
Perfect for situations where there are bright lights or camera lights where the glare can make it difficult to see the print on the banner.

High quality - Vibrant colours + great detail achieved from Direct Dye Sublimation Printing.

Differentiation - In the world of signage, it's all about getting the viewers' attention. If the other signs are paper or vinyl, a fabric sign will stand out.

Upscale perception - Fabric creates a more sophisticated look, especially for certain advertisers, such as cosmetics companies, department stores, museums, councils and event organizers.

Reduced costs - Fabric is lightweight and flexible. It costs less to ship (from print shop to customer and from customer to where it will be displayed) and can be folded without damage.
More Picture(s)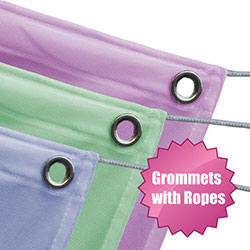 ---
Customer Reviews
5.0 out of 5 Stars. Based on 25 reviews
---
By Carl Pelletier on Nov 04, 2021
---
By Dave Schram on Sep 29, 2021
---
By Yumiko Hayashi on Aug 29, 2021
---
By Ron Binder on Aug 12, 2021
---
By Ivy Dong on Apr 09, 2021
---
By Roberto Gauvin on Feb 03, 2021
---
By carrie johnson on Jan 19, 2021
---
By Carl Pelletier on Nov 17, 2020
---
By Dave Schram on Oct 22, 2020
---
By Jonathan Lambert on Oct 01, 2020
---
We're here for you (COVID-19 update)
---
Related Items