---
| | | | | | |
| --- | --- | --- | --- | --- | --- |
| | 4.0 ft | 5.0 ft | 6.0 ft | 8.0 ft | 10 ft |
| 6.0ft | $130.00 | $150.00 | $165.00 | $190.00 | $220.00 |
| 8.0ft | $150.00 | $170.00 | $190.00 | $230.00 | $270.00 |
| 10.0ft | $170.00 | $195.00 | $220.00 | $270.00 | $330.00 |
| 12.0ft | $190.00 | $220.00 | $250.00 | $320.00 | $390.00 |
| 14.0ft | $210.00 | $255.00 | $290.00 | $370.00 | $445.00 |
| 16.0ft | $230.00 | $270.00 | $320.00 | $420.00 | $505.00 |
| 18.0ft | $250.00 | $300.00 | $355.00 | $460.00 | $560.00 |
| 20.0ft | $270.00 | $330.00 | $400.00 | $505.00 | $605.00 |
Discount starts at 2 units with the same or different artwork.
Adobe Acrobat File Setup Template(s)

Indoor Fabric Banner Artwork Setup Notes

Download
Price Calculator
---
(Does not include shipping time)
4 Business Days
---
Full color digital printing Incl.
Contact Us
for larger quantities.
Indoor Fabric Banners are made of a high-quality polyester/nylon blend that's ideal for indoor use. The soft, textured material looks beautiful when hanging and it's durable enough to withstand 3–5 years of extended use.

High quality - Vibrant colours + great detail achieved from Direct Dye Sublimation Printing.

Differentiation - In the world of signage, it's all about getting the viewers' attention. If the other signs are paper or vinyl, a fabric sign will stand out.

Upscale perception - Indoor Fabric Banners are perfect for indoor events like trade shows, in-store displays, church gatherings, birthdays, and much more.

Reduced costs - Fabric is lightweight and flexible. It costs less to ship (from print shop to customer and from customer to where it will be displayed) and can be folded without damage.
More Picture(s)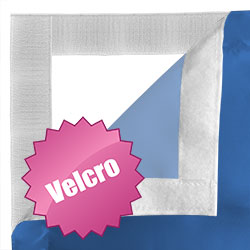 ---
Customer Reviews
5.0 out of 5 Stars. Based on 11 reviews
---
By Evan Renaerts on Oct 18, 2021
---
By Jeremy Andrews on Jun 16, 2021
---
By Fabienne Lesec on Apr 04, 2021
---
By Lauren Steunenberg on Oct 31, 2020
---
By Pierre Petitpas on Jan 14, 2020
---
By Pascal Tremblay on Nov 28, 2019
---
By Lana Crosbie on Sep 23, 2019
---
By TROY HIBBS on Sep 09, 2019
---
By Keelan White on Jul 17, 2019
---
By Vincent Sinclair on Jun 25, 2019
---
We're here for you (COVID-19 update)
---
Related Items